We all know that sometimes love can get a little messy. This Valentine's Day, keep your love life on track and your hair a little undone. Combining a romantic and casual feel, the Undone Knot  will beautifully frame your amazing features.
This is the perfect Valentine's Day hair style. Get this look with a step by step from celeb hairstylist, José Eber.
STEP 1: Create a side part with your fingers.
STEP 2: Curl your entire head loosely. Pick whichever size iron works best for your length of hair.
STEP 3: Tease the crown, starting from the back 1/3 of your head. Then smooth the top layer.
STEP 4: At the nape of your neck, off to the side, pin medium sections to create a loose, imperfect knot.
STEP 5: Arrange loose pieces in the front around your face.
STEP 6: Spray all over with hairspray to hold style.
We love this look on Jennifer Lawrence!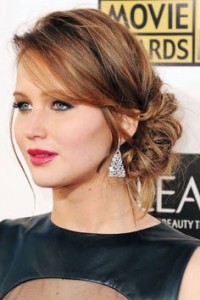 PC: the Woods&Co.