From Nicki, Jessie and Ari to Sam Smith's four wins
, celebrities rocked the red carpet at last night's Grammy awards. Here are some fun ways you can steal their style.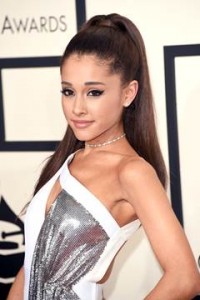 Ariana Grande
This pop diva in the making must get frequent headaches with her constant tight high ponytail. But hey, it works for her and she looks super cute! You can get this look, too.
Short hair? Get Ari's #longhairdontcare pony with using a clip in extension like Mia Beauty along with a faux hair ponytail to get the easiest wrap around pony look. Finish off with a pinky neutral lip.
Mia Beauty Clip-n-Pony, $30 via www.miabeauty.com
Mia Beauty Tonytail, $8 via www.miabeauty.com
Gerard Cosmetics
Lipstick in Buttercup, $19 viawww.gerardcosmetics.com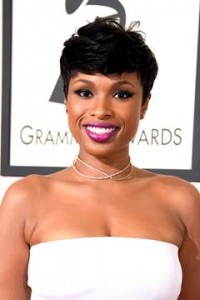 Jennifer Hudson
J-Hud was not about to share the spotlight with this bold lip look. She looked gorgeous with her pixie cut and classic white dress. Very chic.
Use a violet lip color like Gerard Cosmetics gloss and be sure to follow with a pearly white smile.
Try Whitening Lightning. Tamed yet tousled tresses complete
the look – try a design lotion like Topganic's to keep fly aways at bay.
Topganic Design & Sculpture Hair Styling Lotion with Obliphica Oil from Russia, $11 via www.topganic.com
Whitening Lightning Dial-A-Smile Professional Teeth Whitening
Kit, $99 via www.whiteninglightning.com
Gerard Cosmetics Color Your Smile Lighted Lip Gloss in Wild Orchid, $24 via www.gerardcosmetics.com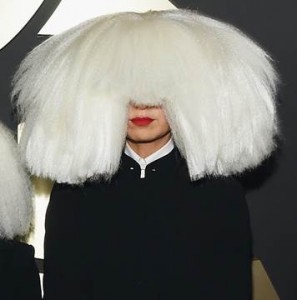 Sia
I just love Sia. She is so unique and artistic. I once read that she purposely covers her face so that she could live a normal life. I think that's pretty deep. But this was one crazy statement.
Looking to swing from the chandelier like Sia? Grab your craziest blonde wig or make your own with a sheepskin rug! (Just kidding-we LOVE Sia!) Finish off with a matte red lipstick, like Gerard Cosmetics'. This looks is not for those with elastic hearts!
Sheepskin Rug, $270 via www.costco.com
Scissors, $3 via www.walgreens.com
Gerard Cosmetics Lipstick in Fire Engine, $19 viawww.gerardcosmetics.com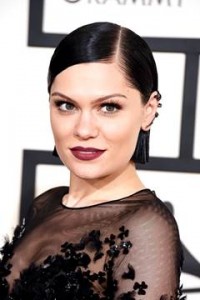 Jessie J
Bang, bang their goes OUR hearts! This bold red carpet look from Jessie J stole the show. She looked absolutely stunning and edgy all together. This is definitely the proper way to wear a cut out gown. Take notes fashionistas!
With a slicked back bob, try an argan oil to keep it shiny like Topganic;s. With a bold lip, like using one from Gerard Cosmetics
, make sure skin
looks flawless and matte – try Miracle Skin
Transformer!
Topganic Intensive Oil with Argan Oil from Morocco for Dry & Colored Hair, $13 via www.topganic.com
Miracle Skin
Transformer Face SPF 20, $48 via www.kohls.com
Gerard Cosmetics Lipstick in Cherry Cordial, $19 viawww.gerardcosmetics.com
PC (provided to me by woods & Co.):
Grammy Awards – FREDERIC J. BROWN/AFP/GETTY IMAGES
Ariana Grande – JASON MERRITT/GETTY IMAGES
Jennifer Hudson – JEFF VESPA/GETTY IMAGES
Sia – Getty Images
Iggy Azalea – JASON MERRITT/GETTY IMAGES
Jessie J – STEVE GRANITZ/GETTY IMAGES