Road trips are fun but driving through the desert is a different type of road trip experience. Bright blue skies, mountain views, miles of nothingness. It's a different kind of calm. Perhaps the reason why artist, Leonard Knight decided to make the California desert home to one of the state's national treasures, Salvation Mountain.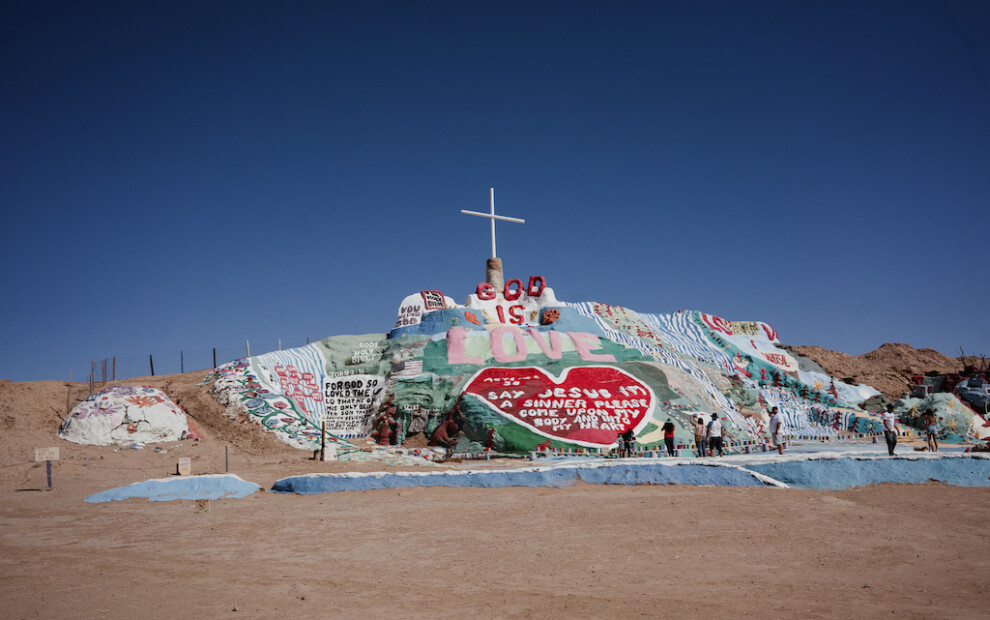 A drive to the California desert is only about 2-3 hours away from Los Angeles.
It's doable in a day but better if you make a weekend out of it. On a recent visit, I got to see one of my cousins who loves camping. We got to talking and decided to make a spontaneous road trip out to Salvation Mountain and Joshua Tree. After hours of driving, and pit stops to remember, we finally made it. And it was truly something to take in.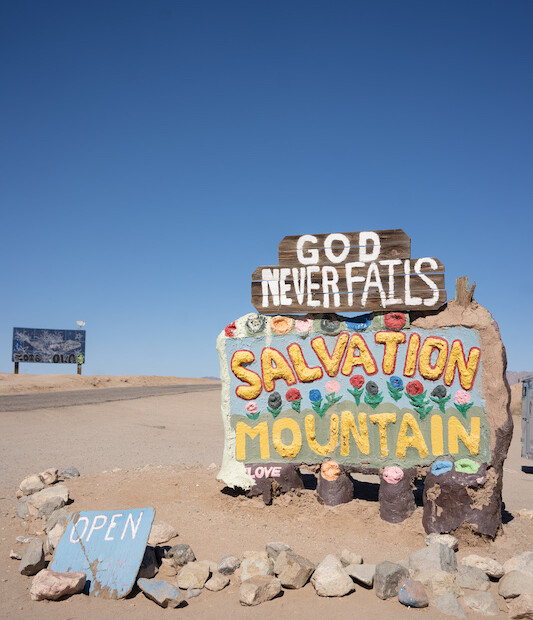 Salvation Mountain sits colorfully in the middle of a blue skied, hot, dusty desert.
The famous art installation created by Leonard Knight is located in the lower desert of Southern California, Imperial County just east of the Salton Sea (yes, the area is as strange as you've probably heard). About 1.5 hours away from Palm Springs.
Salvation Mountain was not Knight's original project.
Although Salvation Mountain consists of such strong spiritual messages, Knight was not a religious man. In fact, he believed that things were more simple than religion; repent, accept Jesus, and be saved. But no one would listen. So Kinight decided to create art. He felt a calling to create something and made it his life mission.
Knight (a retired veteran) didn't even consider himself an artist. He decided to create art in order to share his spiritual messages. First, he tried with a hot air balloon but it would not fly. Then, he created a smaller mountain (that collapsed after a rainstorm) and finally- Salvation Mountain was created. Leonard Knight dedicated 30 years to his creation. He shared his message, "God is Love," with all who came to visit.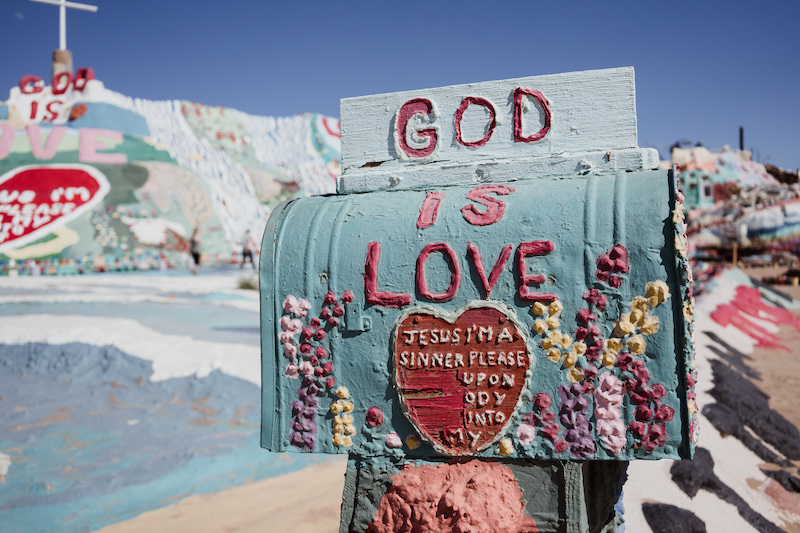 Aside from this colorful mountain, there's not much else around.
The area that surrounds Salvation Mountain is densely populated. It consists of mostly motor homes, tents, abandoned cars, upcycled art, and a ton of junk. But there is a small community that calls the area "home." Sadly the toxic water of the Salton Sea nearby, makes it dangerous for its residents healthwise.
And if you think Salvation Mountain is unique, look up Slab City, a lawless place (featured in the film, Into the Wild). It's a place without rules, water and electricity. Homes are creatively made- from tents to abandoned cars and motorhomes. But driving into this area just feels strange.
Side note: While the journalist in me is always curious to discover new places, I opted not to continue onto Slab City or Bombay Beach. Before traveling there, I read many articles advising against visiting these areas or going near the toxic water and radioactivity. So we didn't venture too far out because we had a kids and a dog in our group. It just felt eerie and unwise so instead we headed to J Tree afterwards.
Travel tips: If you're heading into the desert, go early! Make sure your gas tank is full and have water and snacks handy. Pack sunscreen and bug spray. Always have an emergency kit in your car. Head out before sunset. Not only does it get very hot but it gets very dark at night and can be dangerous.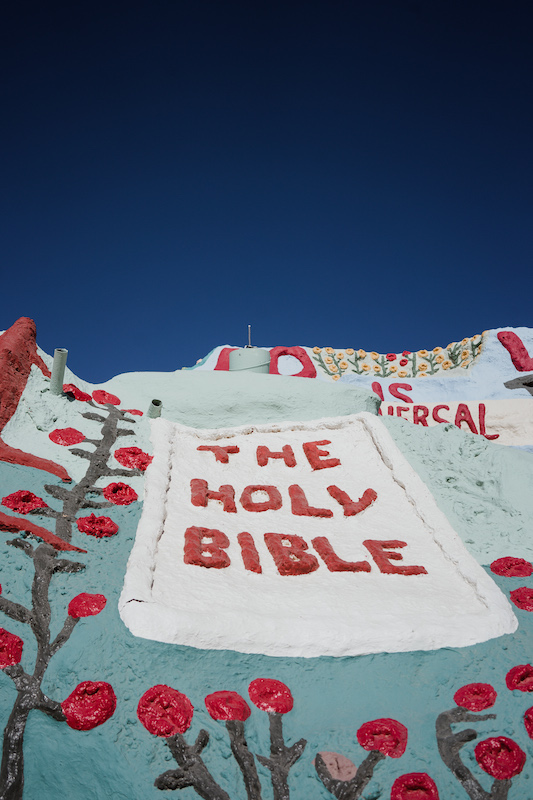 Facts About Salvation
Salvation Mountain is Leonard's tribute to God ("God is Love").
Scriptures include Lord's Prayer, John 3:16, and the Sinner's Prayer.
It's 50 ft. tall, 150 ft. wide.
It's made of adobe clay and paint.
Donations of paint are accepted.
Free and open to the public!
Visiting hours: 8am-5:30pm
If one thing is clear, it's Knight's message: God is Love.
The energy there is peaceful, inspiring and there's a sense of calm. People drive from all over to see this iconic sight. It's really something special. And the highlight of my experience- while looking up at the cross, my daughter and I saw 3 white doves fly over! I just couldn't get over it.
Leonard Knight was diagnosed with Dementia and passed on in his 80s. He was able to visit Salvation Mountain for the last time in 2013. The famous landmark is maintained by donations and volunteers.