*This is a compensated campaign in collaboration with Vi and Va Dolls and Latina Bloggers Connect. These are my honest opinions.
I just love seeing new toys hit the market that is rich in culture and diversity. In this melting pot that we live in, the Latino community grows more each day. But with our children growing up "American", there are still certain toys on the market that they cannot identify with. But these new dolls are changing the game now.
Meet Vi and Va, (pronounced like Viva!) are two teenage sisters: Viviana (Vi) and Valentina (Va).  
For these girls, every day is an adventure and a reason to celebrate the bonds of family and friendship. Vi and Va, along with their best friends, cousins Felicia and Roxxi, were created to help girls honor and embrace their heritage. The themes and storytelling within the line focus on both family and culture.  The four main characters are not just friends, they are also family.  How cool is that? Every Latina knows just how special and important our "primas" are and our familia in general.
Older sister, Vi, 16, is spontaneous and easy-going.
She's passionate about sharing her love of music, and she's always ready to break out her guitar at family gatherings. She also loves creating new styles as a fashion designer. Younger sister, Va, 15, is so neat and organized. She loves learning to cook from her mother and grandmothers. She's already perfected several savory family recipes, like empanadas.  She also loves trying out new hairstyles, and making herself look unique with ribbons and flowers in her hair.
Felicia and Roxxi are Vi and Va's, cousins.
Felicia is 17 years old and an artist. Roxxi is 18 years old and a dancer. The product line includes several dolls and activity sets to help little girls play out each character's storyline and enjoy their special talents.  The line also has a birthday party/quinceanera collection, where the family celebrates Vi turning 16 and Va turning 15 with a combined family party celebration.  Girls can even dress up and join the fun with role-playing and styling accessories.
Each doll is unique which makes playing more fun and interesting for kids.
For example, Valentina enjoys cooking, and her sister, Viviana loves music. My daughter toyed with the idea that Valentina opened a restaurant, her sister, Viviana, and cousin Roxxi perform there and their cousin Felicia displays her art! How's that for imagination? My daughter also loved that Valentina came with her favorite yummy snack- empanadas! Que rico!
The dolls are adorable, have a funky style in which they express their colorful culture and creativity.
They are shorter than your average doll- about nine inches tall, and their body type is curvier as well. We love that they all have unique skin tones and hair colors/styles because Latinas come in a variety. And we love that, too!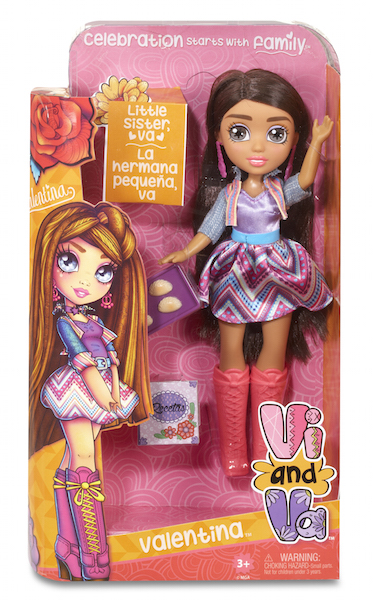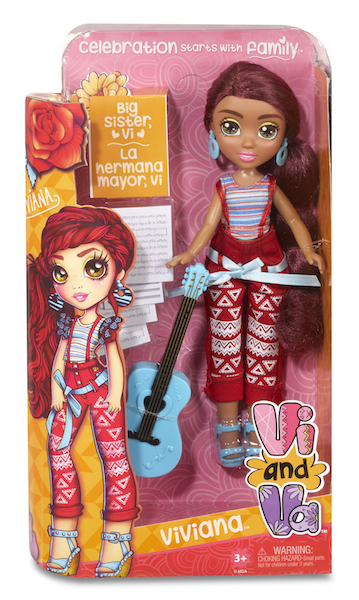 And guess what? You can win one of these gorgeous dolls, too!
We are giving away the Viviana doll Fashion Designer! Your little one can design Vi's clothes and bring out her inner fashionista! All you have to do is enter below! Good Luck!!!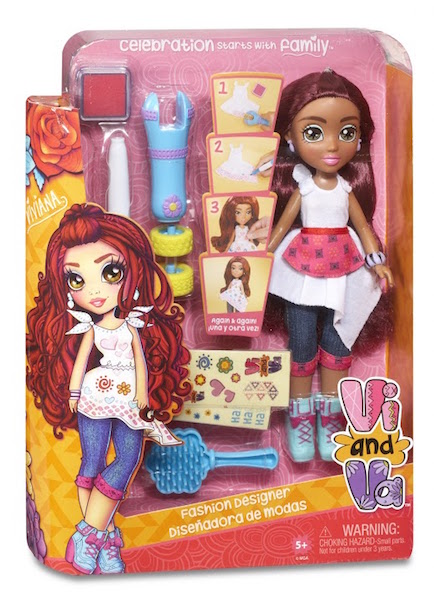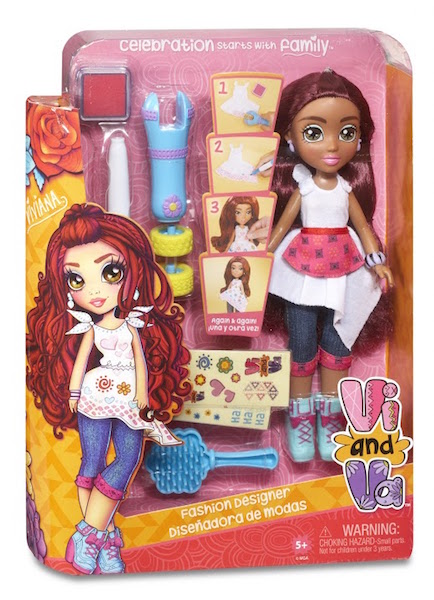 a Rafflecopter giveaway
Watch our video to see a closer look!
MGAE believes that ethnic diversity is critically important to a healthy community. The Latin family is a major consumer of dolls and toys, which we are proud to serve with our innovative products. The full assortment of "Vi and Va" fashion dolls is available at Target stores and on Target.com. For more information, please visit ViandVaDolls and join the conversation with our social community on Facebook and Twitter. Comments submitted may be displayed on other websites owned by the sponsoring brand. – This is sponsored post in collaboration with Vi and Va Dolls and Latina Bloggers Connect. However, all opinions expressed are my own.