We all know whoever coined the phrase "beauty is pain", knew what they were talking about. As women, we get to experience what it is like to fall in love over and over again- usually, a few times a year. If we are lucky, we fall deeply in love with the man of our dreams, but let's face reality, in most cases, it is shoes!
The fine line is drawn between accepting our truth that just like the men we fall for, these shoes cause us nothing but pain and problems. As the season brings us non-stop events, celebrating the holidays, and embracing the New Year's resolve, our feet practically go into a state of shock. Ankle boots, knee highs, stilettos, Oh My!
It is a never ending parade of lust, not true love between us and our designer pumps. How could something so beautiful cause us such grief?
We may never know. As I searched for the perfect pair to get me through the holidays… Peep toes? A wedge? Sky-high arches? I found myself settling for a fancier, metallic flat for my own comfort and sanity's sake. After all, all of my favorite shoes have a four hour, wear limit, tops. They cannot get me through a long day or night, navigating through the streets, standing at the bar waiting for a drink, pretending my smile is legit and not just my way of gritting my teeth from the agonizing pain. I couldn't believe I was choosing practicality over desire, so unlike me.
I stared at my metallic flats and said to myself, "Sure, they go with everything, I'll be fine. I'd rather be comfortable." A true fashionista to the core, this thought process began to worry me. Settling? A fashionista never settles. Not when it comes to a man, and certainly not when it comes to her shoes!
I needed a solution. So like any girl with a dream, I went out and chased one. Sure, enough, I found one. I felt it was my responsibility to share this with my fellow divas, who are bound together to achieve total world domination.
So what if I told you there was a way to painlessly wear pretty pumps? You'd want in wouldn't you?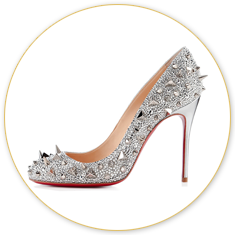 'The Loub Job" (so clever) is the new, cutting edge treatment developed by Podiatrist to the Stars, Dr. Suzanne Levine. Fillers are no longer just for your face as we women can now take the radical steps to eliminate the ongoing suffering that comes from wearing our beloved pair of "Red Bottoms"!
With the secret finally revealed about how celebrities can rock those fabulous, iconic shoes for hours on end while walking the red carpet, more women have been experiencing a serious condition known as "stiletto metatarsalgia."
Through injectable treatments and even at-home inserts, we never have to worry about the time limit on our ultimate, kitten heels! Pain will become a distant memory and we will continue to strut around at ease, turning every head in the room!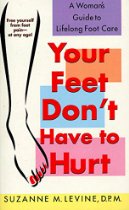 Dr. Suzanne Levine, board-certified podiatric surgeon and author of Your Feet Don't Have to Hurt, is performing a revolutionary cosmetic procedure called the 'Loub Job' as foot beautification becomes increasingly popular.  To sport the trendy footwear seen on runways , woman are turning to Dr. Levine, the founder of Institute Beaute in New York City, for the 'Loub Job', a procedure involving Sculptra Injections that provide cushioning for foot soles. Coined 'Loub Job' because the procedure is sought after by women who want to wear Christian Louboutin shoes, the treatment provides high heel lovers an increased level of comfort.
The 'Loub Job' procedure consists of collagen injections to the toe pads, heels, and balls of feet creating a pillow-like result. The collagen also helps lubricate the foot joints to avoid any further injury from high heeled shoes. The painless treatment is done under a fluoroscope and takes about 20 minutes. The procedure runs between $500 and $1,500 and lasts for up to a year allowing women to practice their runway walk in comfort, season after season.
'My patients love the "Loub Job" and come back religiously every year for it. The treatment lets them wear their sexy heels with ease and even exercise without discomfort in their feet," says Dr. Levine. "My goal is to help women look and feel their best and this procedure does just that."
Fantasy shoes have now become our reality. Just remember, the prettier, higher, more glamorous, the more expensive. Start Saving!
Institute Beauté in New York City offers progressive foot treatments, pain relief, surgeries, and solutions for overall foot health. Dr. Suzanne Levine is a leading innovator in podiatry, winning multiple awards, earning the respect of her peers, and is
the go to doctor for television, print, and online media. Check out Pillows For Your Feet inserts, spray, and other products in the line to help our fashionista's look and feel like they can do anything given the right pair of shoes!
*This post was written by Jessica Schirripa, creator of CoffeetawkNJ