This is a sponsored post in collaboration with DimeMedia and the Disney Channel. All opinions are my own. 
#ElenaofAvalor #ReadyToRule #sponsored
There's a new princess in town and guess what- she's fearless, fun and she is the first official Latina Disney princess! And her name is Elena of Avalor. I feel so honored to partner with Disney to celebrate the Elena of Avalor premier of such a special event.
As a Latina, I couldn't be happier about Elena's arrival. I am now a mom and my little girl will be able to identify herself with a Disney princess. A princess whose second language is Spanish, who plays the guitar with her abuelo and has traditions we can relate to. And not to mention the music- sounds of salsa, merengue, and mariachi, for example. Every little girl who comes from the Latin culture can relate.
For the premier, we invited friends with their daughters to come watch with us and as Latinas love to do, have a little fiesta while we were at it. The girls crafted and enjoyed yummy snacks while the moms chatted at all of the Elena of Avalor decor. To no surprise, the moms were excited- maybe more than the girls- to watch the premier. I can say, I was excited for sure!  In fact, my two abuelas and my mom came out to watch as they too were excited. As we watched on the night of the premier, she pointed out to me that Elena's abuela makes the same thing that mine does- pasteles!
For the premier party, I incorporated the crafts and decor that Disney sent me (see unboxing video here) and added my own touch. I set up outside since it was a beautiful sunny day. We had three tables. A craft table where the kids could pick up supplies, the table for the kids to color and enjoy their snacks and a food table. For centerpieces, I used red mason jars and added faux flower arrangements in Elena of Avalor's theme colors. Pops of red, yellow, and orange were everywhere and it was so pretty.
For snacks, the kids had nachos, popcorn and rainbow cake. They also had other treats later like ice pops. At the end of the premier party, the kids (and moms!) were so happy to take their goodies home.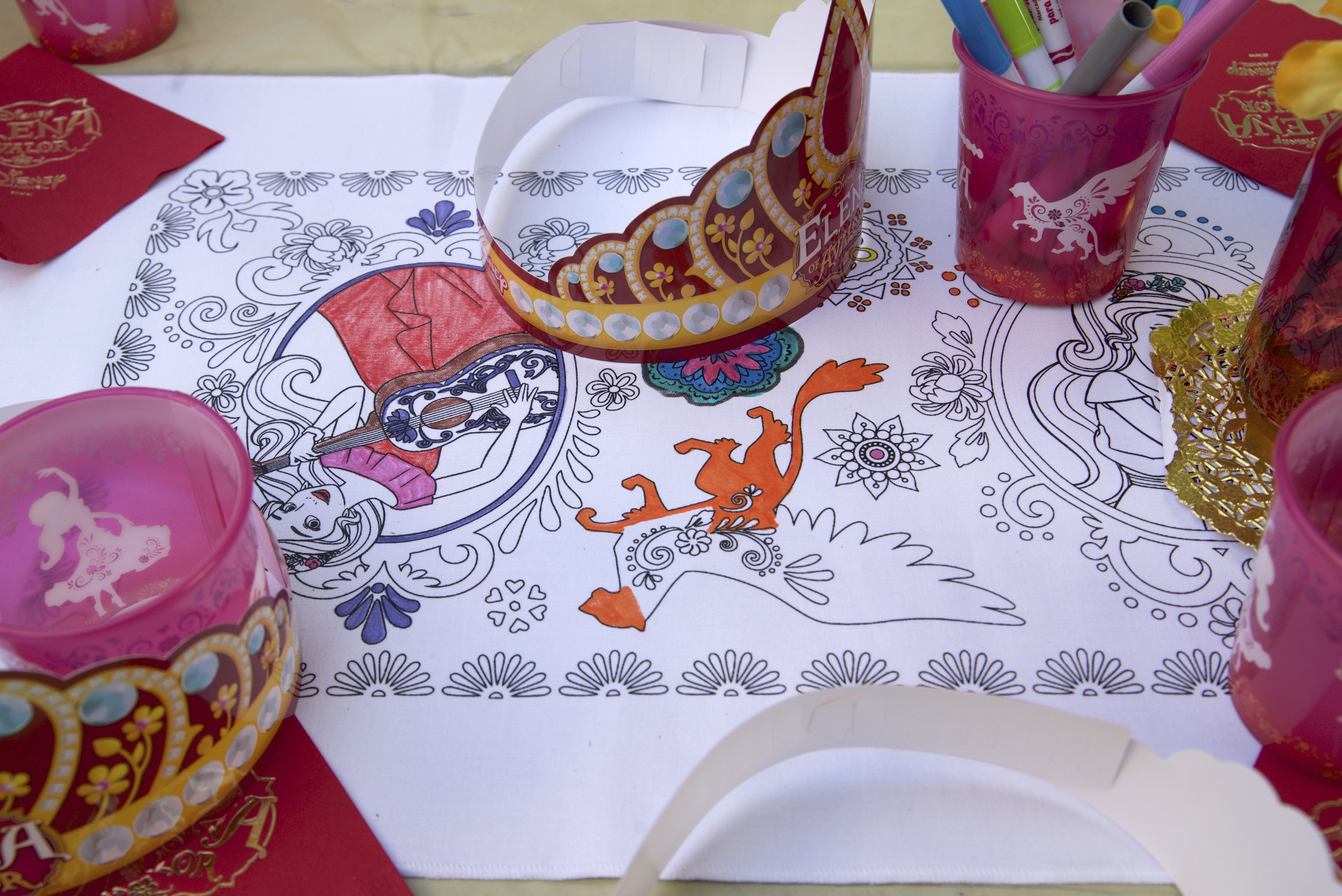 Liana created a surprise craft with left over paper towel rolls we had. She made a pretty jewelry holder. How? Simple! Just decorate the roll, add some thumbtacks (to hang your jewelry), and add a string to hang. It's super cute and easy to make. The older girls really liked them and took home the materials to do it at home.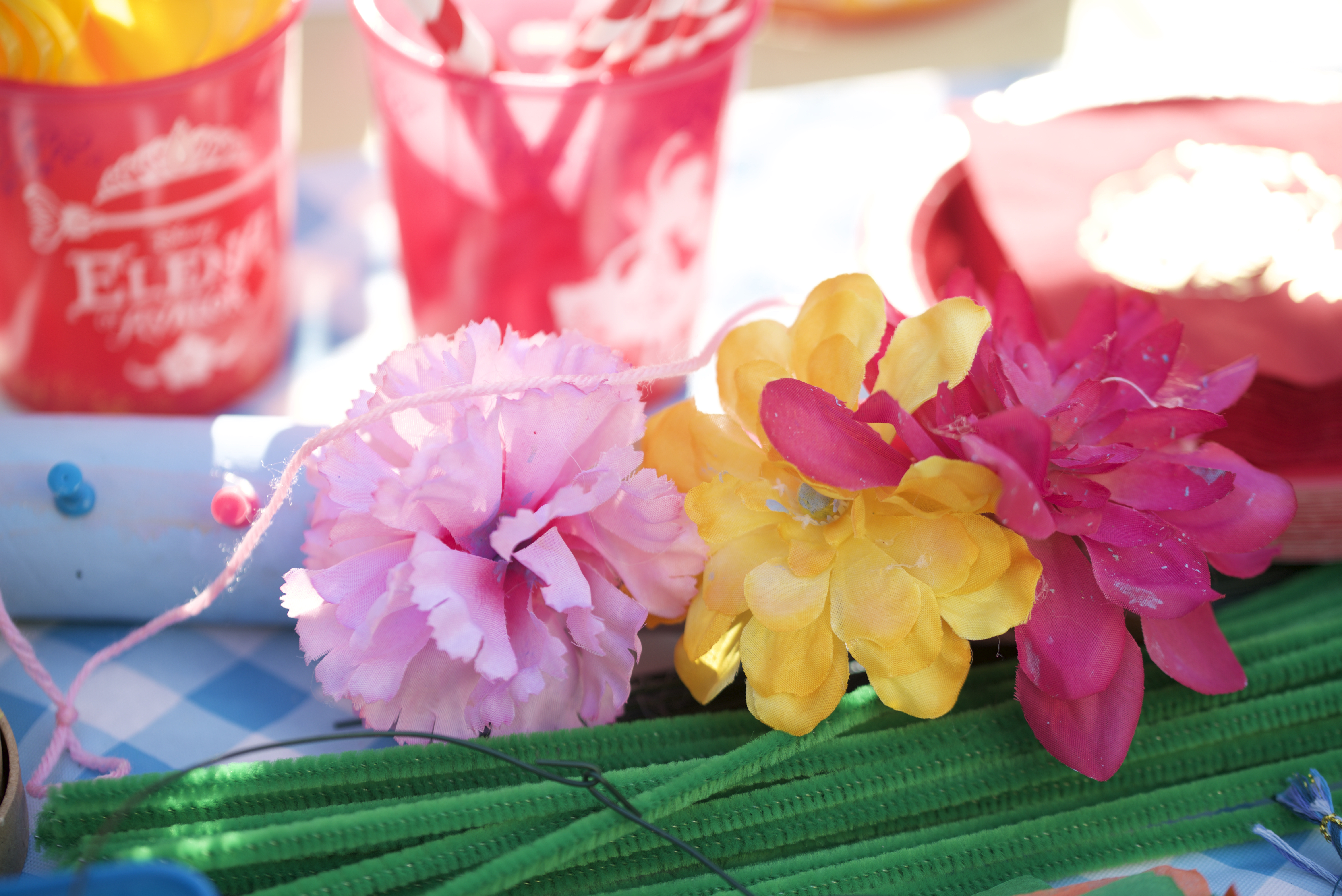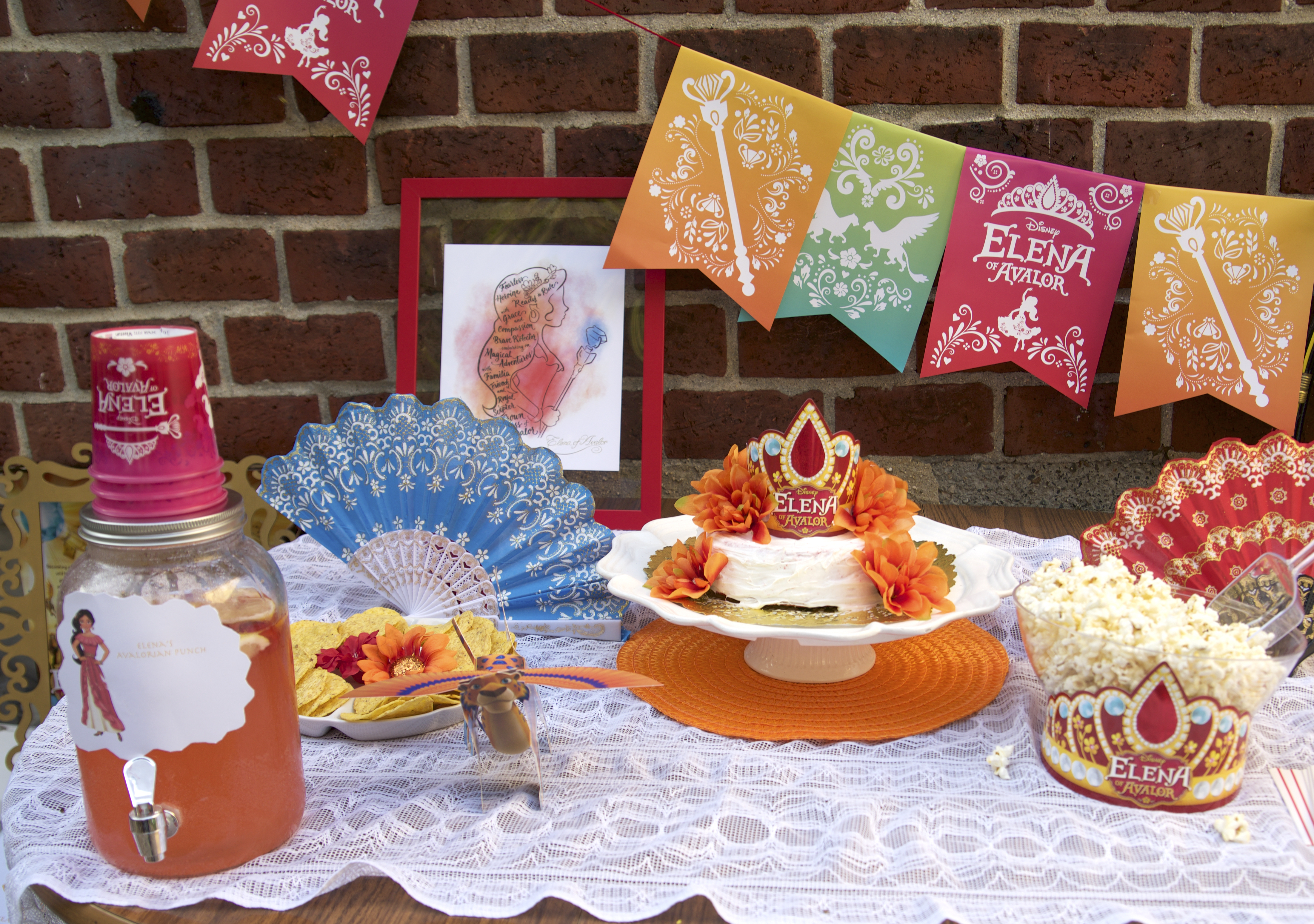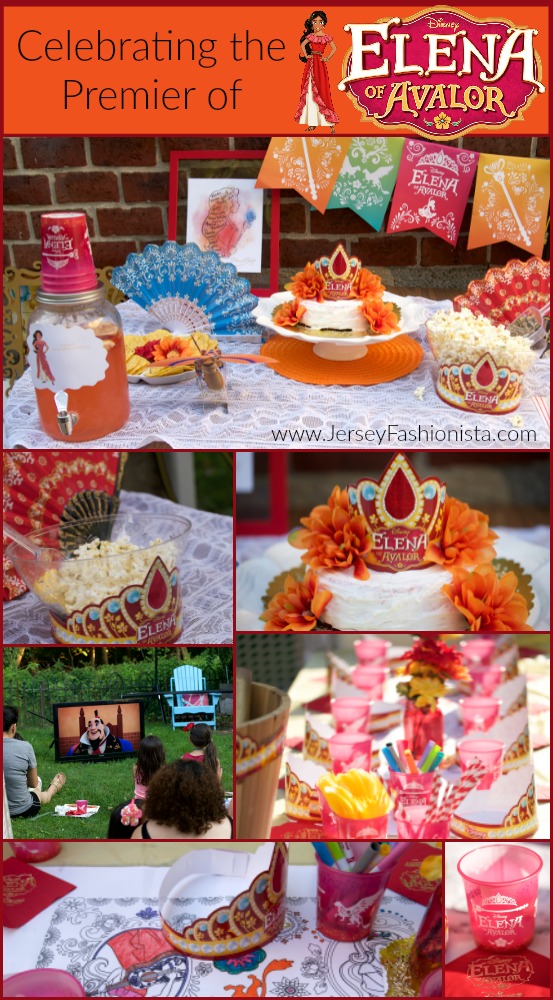 We set up a television on the lawn so they could watch it outside. Elena of Avalor is a 16 year old princess who has saved her kingdom but now has to learn to to rule. Her grandparents are her advisors and she also has support from her friends and little sister, Isabel. What makes Elena so special is that she is fearless, bold, caring and funny. She is hardworking and cares a lot about her family and friends. Elena faced evil sorceress, Shuriki, to save her grandparents and little sister. She is also very strong because she was trapped for 40 years in an amulet when she saved them. Elena's courage and strength shines through in the series teaching little girls that no matter what circumstance, keep moving forward.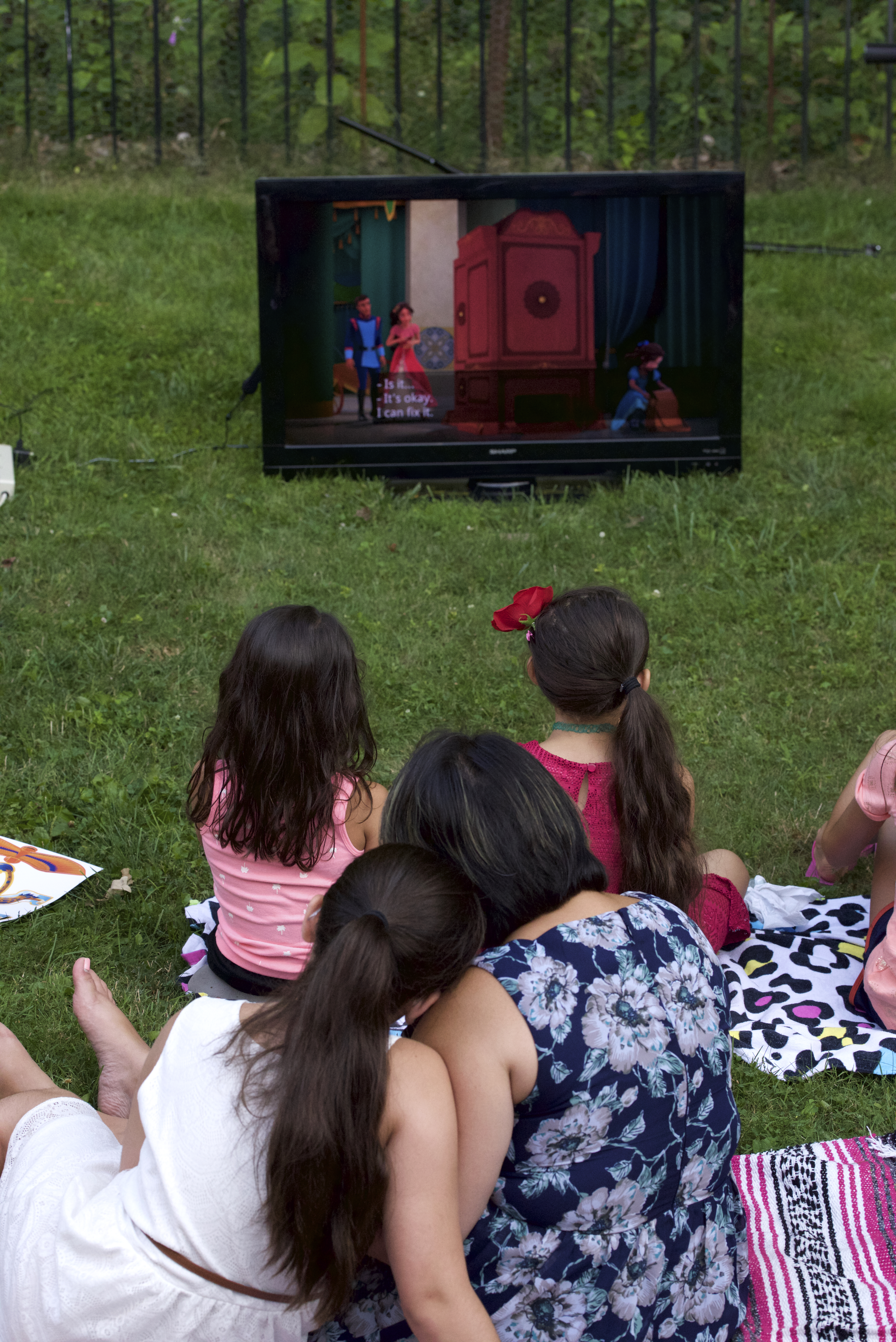 Group selfie!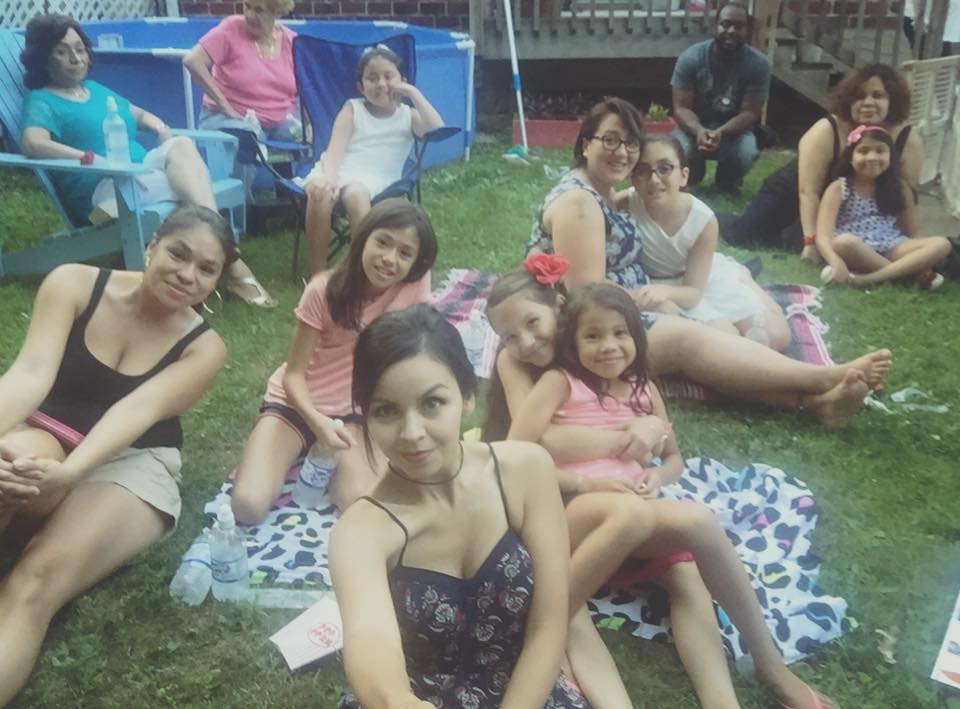 Did you watch the premier? Share your thoughts below. If you missed it, remember you can catch it on the Disney Channel and Disney Jr. on Fridays at 7:30pm ET/PT. You can also watch it on the Disney Channel app which my daughter just loves!