Ever since my daughter was a baby, I've been creating and inventing little things for her to wear like headbands and bracelets- or adding glitter to certain pieces. It's no wonder she found a love for all things sparkly later on. When she was in kindergarten her little best friend loved her custom headbands so much that she begged her to ask me to make her one (which I did of course!). And I love being able to do that for her. But the latest DIY project I did for her has a bit of a twist to it. Sure, it's super sparkly but it also covers something up.
If you're a mom- or a clumsy gal you may enjoy this clever cover up. Liana has always been great at torturing her shoes. I mean, even with several pairs, none stay in mint condition. She loves to drag her feet, step on her opposite foot while slouching or kicking rocks and knicking the toes of her shoes. As a mom, that is super irritating. So, you can imagine my discomfort when I bought her a new pair of military Steve Madden boots. The very first day, she knicked a piece of the leather from the toe of her boot. The next day, the other.
So, what's a mom to do? Toss the brand new pair of boots, use them for play? Nope! We GITTERIZE them!
I call this DIY project Glitter Toed Military Boots. (You know the style your daughter goes gaga for at shops like Justice but you refuse to buy because they're about $60 and you're not sure about the quality… That's the look we went for here except I know the quality is good at least.)
Here's the before photo: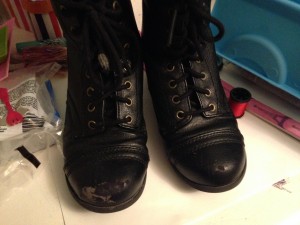 What I used:
A small paint brush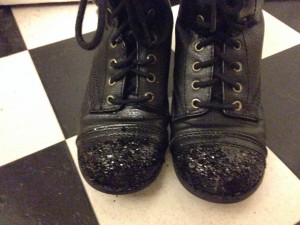 How I did it:
This fixer upper project took less than 10 minutes. I simply wiped the surface clean with a rag, applied mod podge with a small paint brush, and dusted the glitter on. The hardest part was applying the glitter because it's so messy. I applied two coats of glitter, 3 of glue.
After the first coat, I allowed it to dry for two minutes. Then I applied a light coat of mod podge over the glitter and added more glitter. I allowed that to dry for another two minutes and lightly applied a final coat of mod podge as a sealer. I wiped off any excess glitter and let the boots dry over night. The next morning, they wear ready to wear and made one little girl very happy 🙂
Tada!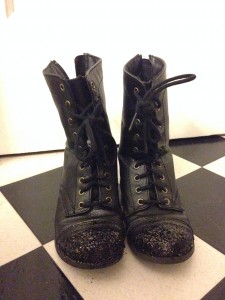 Here's Liana sporting her "new" boots!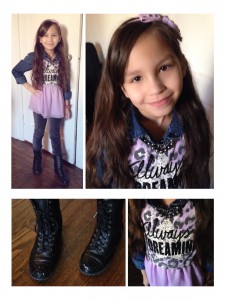 Happy crafting!
If you try this out, I'd love to see! Shoot me an email!