If you're planning to take a trip to the beach, the one fashion accessory that you wouldn't want to skip buying is a beach hat. After all, the beach wouldn't give you that much shade which can leave your head exposed to the harmful effects of the sun's UV – or ultraviolet – rays. But aside from protecting your head against the sun's UV rays, the beach hat that you'll be bringing with you should also look good on you once you wear it. With so many beach hats in the market right now, choosing one can get very challenging. To make it easier for you, here are some of the best beach hats for men and women along with their creators.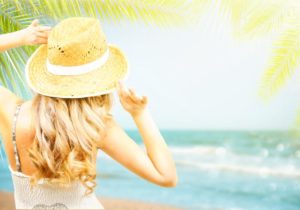 Coolibar Beach Hat
Coolibar is a manufacturer of sun protective products aimed at letting beachgoers bask in the sun without having to suffer for it. One of the said company's sun protective apparel is their Coolibar Beach Hat which boasts a UPF – or ultraviolet protection factor – of 50+. A beach hat with a UPF of 50+ means that it blocks 98 percent of the sun's ultraviolet rays so that your scalp, face, and neck wouldn't get afflicted by skin cancer.
The Coolibar Beach Hat is available for both men and women. However, Coolibar's beach hat for women comes in only one size (22.5 inches) whereas the one for men comes in three sizes ranging from 22.625 to 24.375 inches.
The Coolibar Beach Hat for women also has a wider brim measuring six inches compared to the one for men with only four inches, though only the latter has a leather chin strap with a wooden bead that you can adjust so that the beach hat that you're wearing won't fall off of your head. You can roll the Coolibar Women's Beach Hat and stick it inside your bag unlike its counterpart for men.
Dorfman Pacific Lifeguard Hat
Even if you barely know any basic lifeguard skills, there's no stopping you at all from wearing a Lifeguard Hat made by headwear company Dorfman Pacific while strolling around the beach.
The Dorfman Pacific Lifeguard Hat is made of palm fiber with holes around its crown to let air in and keep your head cool. It also has an adjustable chin cord so that you can secure it from getting caught by any gust of wind that may blow towards you while walking along the shoreline.
The Dorfman Pacific Lifeguard Hat is available for both men and women as well, though it comes in only one size. You might have a hard time wearing it if your head's too big for it.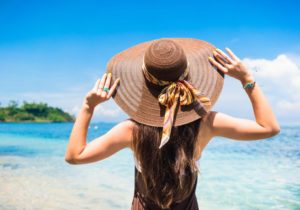 Cuyana Oversized Straw Beach Hat
Clothing brand Cuyana has been putting out apparel and accessories for women since 2011. Their latest achievement is the Oversized Straw Beach Hat handcrafted using natural straw in the Latin American country of Ecuador. Compared to other beach hats, the brim of the Cuyana Oversized Straw Beach Hat has a six-inch extra wide brim that's more than enough to cover the back of your neck and most of your face. The said beach hat also has a narrow black ribbon added to its base for subtle detail.
The Cuyana Oversized Beach Hat comes in four sizes ranging from 22.0472 to 23.2283 inches. However, as mentioned above, Cuyana is a women's clothing brand. So if you're a man, you should skip buying the Cuyana Oversized Straw Beach Hat and pick any of the two other beach hats featured here instead.
Not Just Stylish, but Safe…
According to the Skin Cancer Foundation, more than four million American suffer from basal cell carcinoma each year. Basal cell carcinoma is a type of skin cancer that affects the parts of the body that gets frequent sun exposure such as the head, arms, and legs. So if you'll be hitting the beach anytime soon, you should buy yourself a beach hat to protect your head from skin cancer brought about by lack of shade. But aside from that, you'll also want to wear a beach hat while taking a stroll around the shoreline to look good. The above-listed best beach hats and their creators should help you choose one that you can confidently wear and will last for years.

About the Author…
Carson Finkle serves as the CEO for Tenth Street Hats, and through his marketing and sales training aims to push the California-based company towards becoming a powerhouse in its niche. As a team-oriented person with a penchant for making connections, Carson combines his business acumen and strong analytical skills with his communication skills to solve business problems and form fruitful relationships with both businesses and consumers at the same time. Tenth Street Hats takes its name from the original 10th Street and Broadway warehouse in Oakland California, where it remains to be an integral part of the Northern California culture even 100 years into the future. Tenth Street Hats, despite being a family-run organization, also makes sure the entire team has a bond akin to a real family. This also helped them maintain relationships with cutting-edge designers and expert craftsmen to deliver quality products.