I've never been a good eater. As a child I would cry at the dinner table because I didn't want to eat. And I was more than likely the cause for my brother becoming a chubby kid for some time since I'd slip him my food so I wouldn't get in trouble. (I'm sure picky people can relate!)
As I got older, I realized humans need food for energy. And though my picky habits remain the same, I've found little ways to be creative with my menu. Smoothies and juices are a huge part of my diet because of this.
My Nutri Bullet gets the most use in my kitchen. If not juicing, there's also my tea kettle (because I live on Green Tea!). I have some recipes that are my favorite and I will be sharing them with you on here.
Here is my Berry Pineapple Smoothie recipe. It's super simple and yummy.
The Benefits:
Blueberries– rich in fiber, vitamins A and C. Great for your skin.Blueberries are proven to
help with acne, circulation and other skin conditions.They also boost your energy!
Pineapples– also rich in vitamin C and great for skin! The juices help your skin's elasticity and firmness.
Strawberries– More vitamin C and fiber- which is amazing for yourbeauty and health! Strawberries
boost collagen,fight acne and oily skin.
With these 3 fruits together, you have yourself a beauty boosting drink!
Add the Greek Yogurt and you also get calcium, protein, and natural live active cultures
(which help withyour immune system and digestion).
There's a whole lot of goodness in this drink, for sure.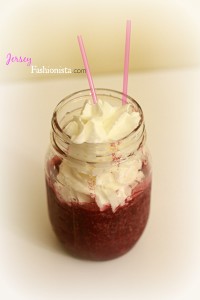 Here's what you will need:
sliced pineapples (about 1 cup is good)
blueberries ( 1 cup)
strawberries (2)
Greek Yogurt (1 spoon)
3-4 ice cubes
1/2 cup water
Combine the ingredients into your blender. Blend until smooth.
(I like to blend it for about 30 seconds so it stays a bit frozen like a smoothie.)
Add some whipped cream or just drink it solo!
Enjoy 🙂
If you guys like reading recipe posts, please comment below and let me know! Feel free to share any of your fav recipes, too! Have you tried this combination? How do you blend your beauty drinks? I'd love to know!