Subscriptions are on trend lately. Jewelry subscriptions, beauty, even clothing and toys. You can get a subscription for almost anything these days. In this post, I wanted to show you what the Beautycon BFF box is all about. This is my second box from them and I have been asked a few times wether or not I recommend the subscription service. Before you read on, I will tell you that these are my true honest opinions and that Beautycon has NOT provided me with anything at all.
Firstly, I will share the main reason I signed on to the subscription- to get VIP tickets for Beautycon NYC last year. Yep, that's the truth. All the tickets they had left offered the subscription as a way to get VIP tickets. I figured, why not. I was bringing my daughter with me and did not want to have to wait on long lines with her so I figured anything to help prevent that was worth it. I actually even forgot about the subscription until I saw the charges for it on my account.
The subscription costs $29, every 3 months or $99 for whole year (then they tack on $6.95 shipping fee per box) A little pricey in my opinion for a small box with a lot of coupons. Yes, some of the products are great and full sized which is awesome but some are sample sized and then there's the coupons- $10 off this, $5 off that- I think the box could do with out those.
The design is adorable. It's fun and vibrant and once you open the box, everything is wrapped in a pretty cellophane paper. On the box, the company suggests you share your products via social media. I find that a little strange. Maybe it's the fact that I am a blogger and normally when we do social shares or posts on brands, we are either being compensated for it or gifted (and we don't always share unless we like the products!). It is, however, a great way to spread brand awareness.
I will also share that my first box was late and that Beautycon BFF emailed me a $10 credit but they never applied it to my next month. I also have emailed them and never get responses. I sent about 3 emails to them asking how to apply the credit and then asking when the Winter box was coming (which was also late). Still, not one response. So, their customer service doesn't seem to be on point but the box did eventually come in.
Each Beautycon BFF box is curated by a different you tuber, influencer, artist or actress, for example. The first box I got was pretty nice. It contained some make up, jewelry, hair and skin products. This month's box was curated by Bethany Mota, a famous you tube star. My daughter was very excited to open the box since she's a fan of Bethany Mota (and met her at Beautycon NYC). She loved the Minnie ears, notebook and temporary tattoos. Everything make up related is for mommy 🙂
I've posted some photos below for you to see what the infamous Beautycon BFF box is like. Check it out…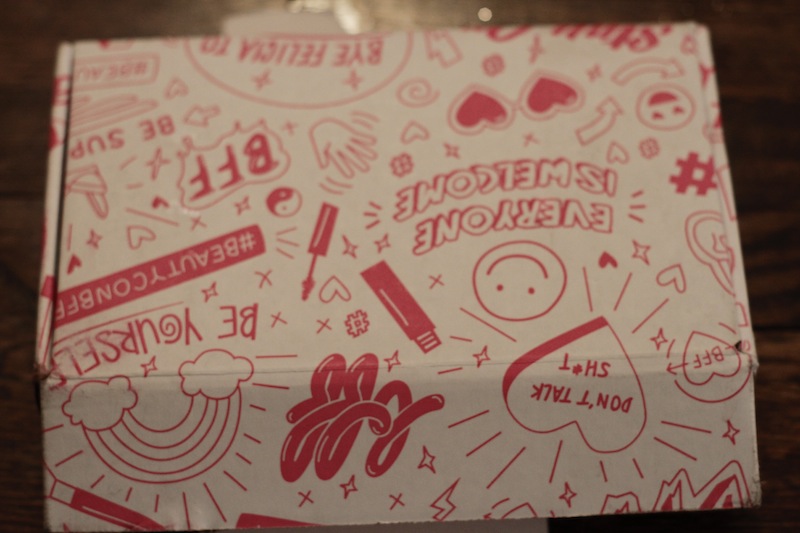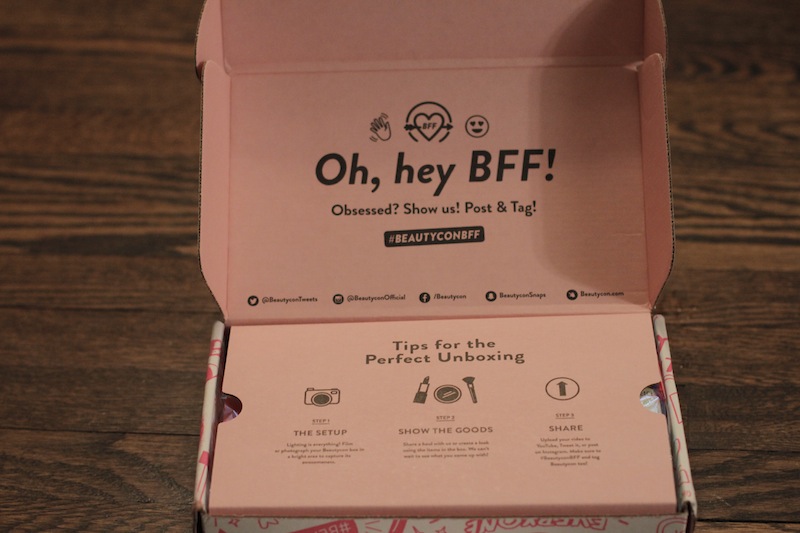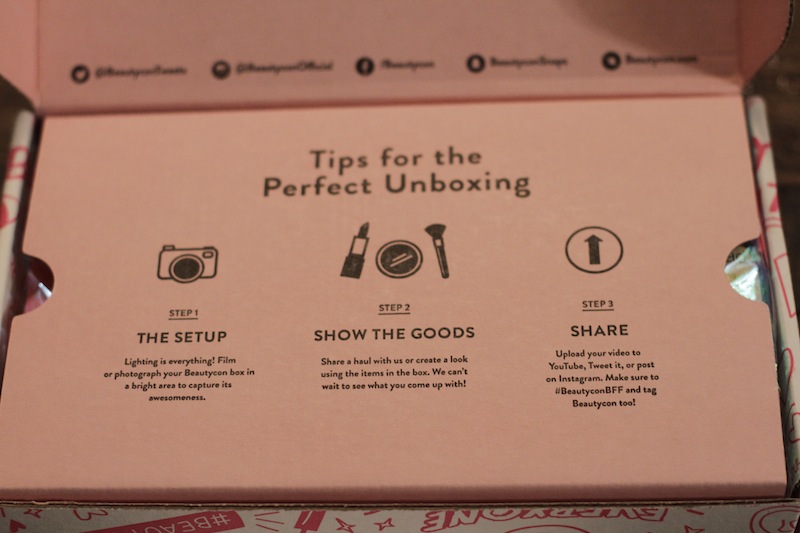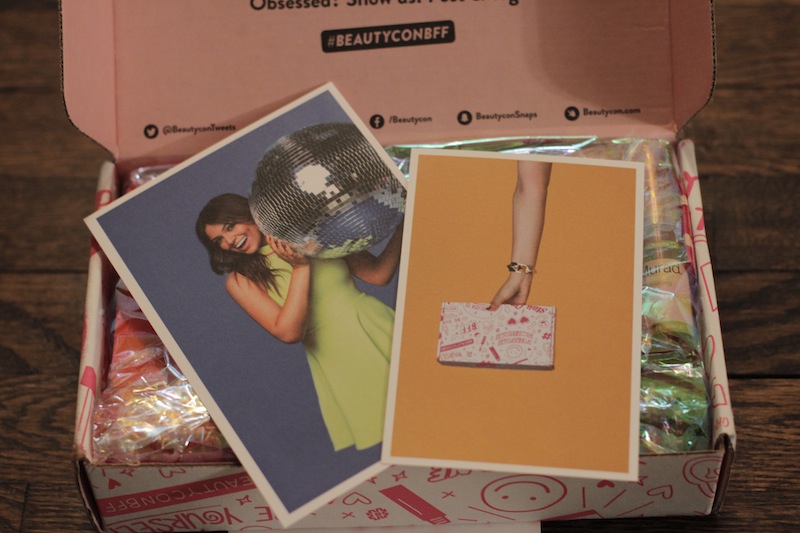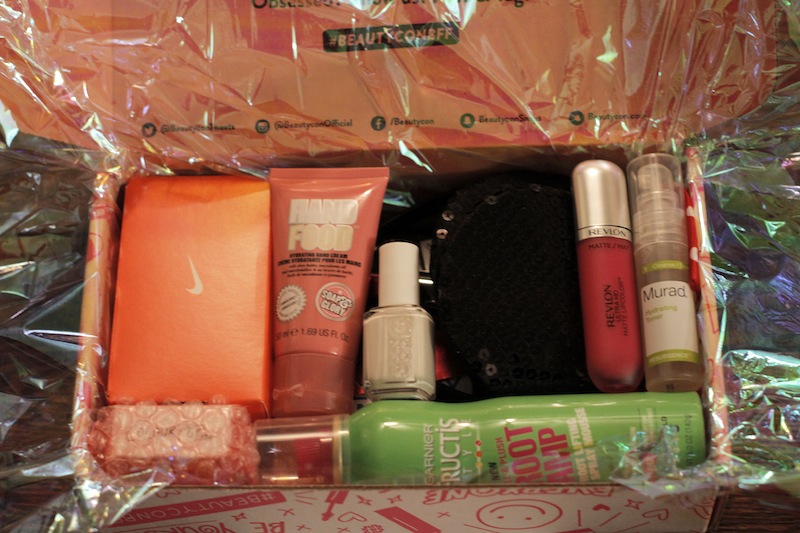 What's in the box:
Murad- Hydrating Toner
Essie- Marshmallow
Maybelline NY- The Falsies Push Up Mascara
Soap & Glory- Hand Foot Hydrating Hand Cream
Garnier Fructis- Root Amp Lifting Spray Mousse
Disney Sequin Minnie Mouse Ears
Disney Minnie Mouse Tattoo Junkie Jewelry Inspired Tattoos
Revlon- Matte Ultra HD
ColourPop- Highlighter
Beautycon- Goal Digger Notebook
Aeropostale- $10 off $50 coupon
Nike- $20 off $50 coupon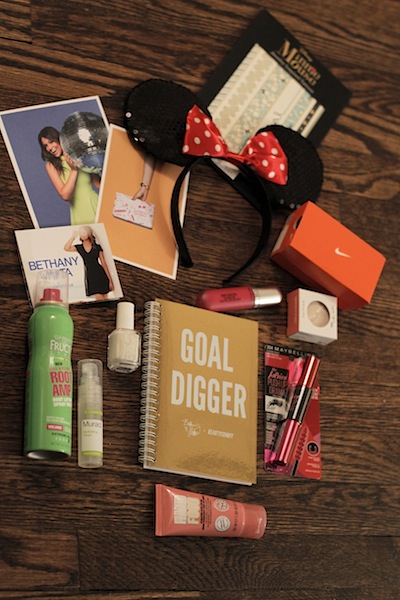 Overall, I do like the Beautycon BFF box. It's exciting for my daughter to open and there are goodies for both of us inside which is cool. I do think they should improve the customer service and get to shipping these boxes on time but for now, we'll hang in there.
If you like this subscription box and want more info, visit: Beautycon
Want to save on your subscription? Enter BESTIE5 at checkout.