Whether it's from immediate buyer's remorse after a trip to the salon or a stunted ability to grow long luxurious locks, one of the most common tasks women face is growing out their hair. What most of us fail to realize is that an integral component to hair growth is maintaining a healthy scalp.
Much like when you're planting a flower, one needs to make sure the area where the roots sprout from is well nourished and perfectly moisturized. Another key to a healthy "harvest" is patience. When growing hair, one must realize that inches of hair won't sprout over night or next week. And while we can't provide an instant remedy, we can provide a list of remedies that will improve scalp health and encourage slightly faster hair growth.

1.) Castor Oil– Castor Oil is an age old remedy boasting a long list of benefits that help treat anything from fungal infections to acne. Its abundance in vitamin E, proteins and Omega 6 and 9 fatty acids make it an ideal option to consider when trying to grow hair. What's more, it has antibacterial properties that are effective tools for treating dandruff and scalp infections. You can create your own Castor Oil treatment by clicking here or buy a pre-made mix here. They both have favorable reviews, so it's a matter of preference.

2.) Scalp Massage– Similar to getting a back massage or shoulder rub, a scalp massage releases tension. This improves circulation to your scalp which combats hair thinning brought on by stress. The best part is that you don't need to schedule an appointment for one! Just untangle your hair (from end to root!), make sure your hair is clear of any product and press your fingertips on the scalp, alternating your fingers throughout your head. It's recommended that you massage your scalp twice a day and combine your massages with a healthy haircare regimen for best results. You can also purchase a scalp massager if you prefer.


3.) Vitamins– On average, 40% of Americans' diets do not meet the sufficient amount of vitamins and minerals recommended for their age groups. To solidify scalp health and hair growth, vitamins A, B, C and E are crucial pieces along to include in your diet. Vitamin A helps keep your hair moisturized. Foods rich in vitamin A include sweet potatoes, spinach, kale, eggs and yogurt. Vitamin B helps create red blood cells, which carry oxygen and other nutrients needed to nourish the hair and scalp, It is also the most easily accessible vitamin as it is found in whole grains, almonds, animal products and dark leafy greens like kale, spinach and broccoli. Vitamin C contains antioxidants that prevent hair from aging by creating collagen. Sources of vitamin C include strawberries, citrus fruits and peppers. Similar to vitamin C, vitamin E contains antioxidants that prevent oxidative stress to encourage hair growth. To get the most out of vitamin E, try incorporating almonds, avocados and sunflower seeds into your diet.
The best way to consume these vitamins is to change your diet, but there are supplements available, too. For example, Biotin and vitamin B12 supplements are very popular for help with healthier hair, skin and nail growth. Consulting with your doctor is always best before trying a new vitamin.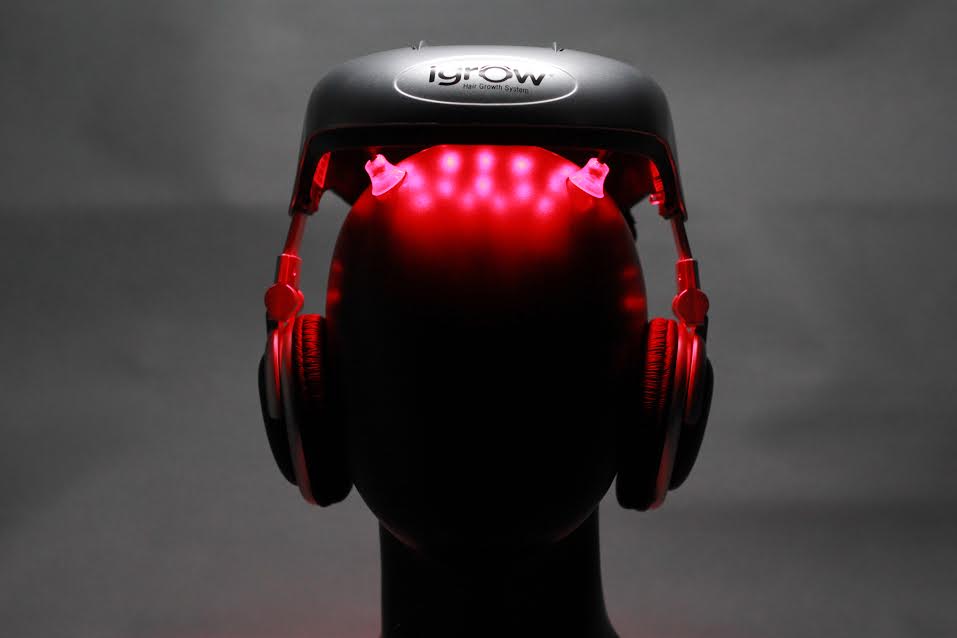 4.) iGrow– A more advanced option for hair growth is Low Level Light Therapy also known as LLLT. LLLT utilizes either lasers that are safe to the touch or LED devices to encourage hair growth by absorbing the light into the cell, thus enabling them to work more efficiently to produce more cells for a fuller head of hair.
You can also do treatments at home using the iGrow which uses both high-quality lasers and LED lights in a hands-free device. The iGrow is user friendly and provides full scalp coverage in each session 20-25 minute session. Their double-blind clinical trial resulted in a 35% increase in hair growth in men and women who used the iGrow every other day over a period of four to six months. It is FDA approved and can be used at home, making it more convenient than going to a the clinic for sessions of LLLT. The iGrow goes for $595.  These are both great options for anyone suffering from hair loss in search for a more advanced solution.
5.) Haircuts/Hairstyles– I know, I know. It sounds counterproductive, but hear me out. Getting your hair trimmed actually encourages hair growth by getting rid of your dry and damaged split ends. Editor of the beauty publication Makeup and Mania, Asa Todd noted that getting your hair trimmed will prevent split ends from traveling up the shaft and damaging the rest of your hair. While you may not have to go every six weeks, you should make it a point to go once every three months. Also, try to avoid putting your hair into overly tight updos like top knots, high ponytails or wearing hats too often. While they're cute, they pull on the hair strands causing breakage and could remove hair from the follicle. Try to let your hair down any chance you get.
*BONUS TIP: Go Satin– We've all experienced it: bed hair. It's frizzy, wild and hard to tame in the morning. What is the cause of bed hair? The answer is lying within your pillow case! Cotton- blended pillowcases absorb moisture, which sucks up your hair's natural oils. Opting for a satin pillowcase over a cotton-blend is ideal when growing out hair because satin will retain moisture rather than absorb it. Todd explains that this is especially beneficial for coarse and kinkier hair. On average, satin pillowcases start at around $7 and are available for purchase at your local department store or online.
While we've done our research to provide these tips, we are not doctors. As you prepare to try any of these tips, consult your doctor so that you take the best and safest measure to grow a long and beautiful head of hair.

 Vanessa Rodriguez is a writer, photography enthusiast and content creator. She is a contributing writer for Jersey Fashionista and is the creator lifestyle and sports blog, GingerSnaps Sports.