I think we can safely say that summer is here, right? When the warmer weather is here, our style changes as we try to keep cool. We want to look stylish too. So I want to share some major styles and trends that are going to be big this summer.
First, a trend that is carrying over from winter, like the backpack. Backpacks are the bag of the season so be sure to have one if you don't already. Not only are they in, they also come in handy for those road trips and summer outings you will go on. Pack everything from your camera to some snacks and essentials. It's no wonder Dora bragged so much about her backpack.
The prairie look is also still strong for summer. So any of your floaty prairie tops or dresses can have pride of place in your wardrobe. Boho chic is the summer look- it's also one of my favorite styles. Light and perfect for summer. 
Underwear as Outerwear
Ok, hear me out on this one. I do not mean superman style with your actual underwear over the top of your clothes! The slip dress is one mega trend to get wearing this summer. A light and silky slip dress would work perfectly when it hots up. Just throw on with some sandals; they are so easy to wear. I love the style; just classy, effortless, chic and understated. Bonus that it keeps you cool too, of course. I saw some super cute ones in Forever 21 the other day. I love to look out for a Forever 21 coupon code so I can grab myself a nice bargain.
Denim Skirt
Denim anything is a big trend right now, but in particular in the form of a mini skirt. Throwing it back to the 90s and I am loving this vibe. You can style with a polo shirt and white sneakers or dress it up a little with a cami and wedges. Any length skirt would do if you'd rather not show as much skin. Denim will also be a strong look in overall dresses and pinafores. Such a cute look this summer!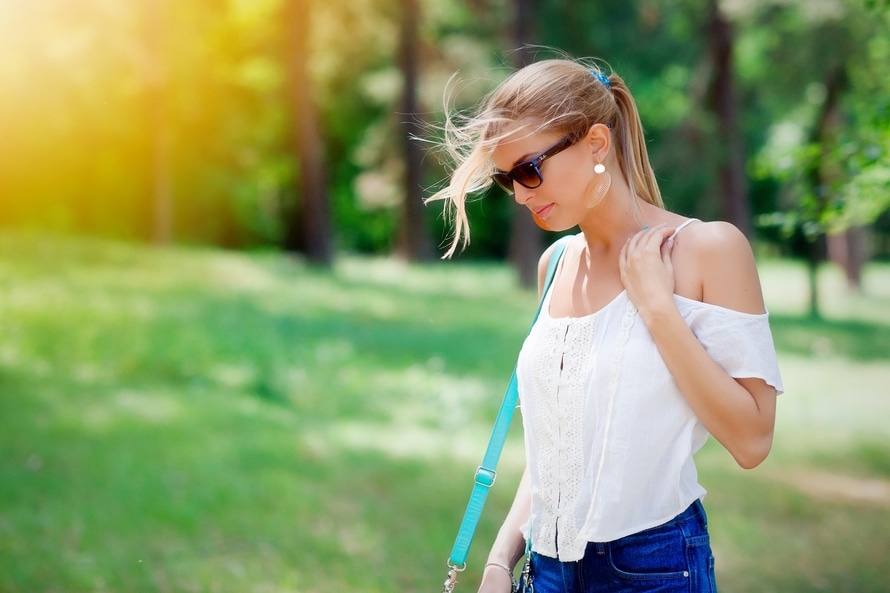 Off-the-Shoulder Tops
I know I  just mentioned the denim overalls and pinafores; they're also pieces that look great with an off-the-shoulder top. This style of top nods to the prairie trend, so look for floaty and ruffle styles. I think this style looks super chic- without being too 'in your face'. They are easy to wear and can style with jeans and shorts too. (Just make sure that you have a great strapless bra. The look isn't quite as good when you see bra straps.)
Chunky Sandals
I love my shoes, but when it comes to summer, I think flats are the best. So when I saw the chunky sandals in a lot of stores, I was pretty much jumping for joy. The sandals are flat but almost have a mini-platform on them. So they will be more comfortable to wear than completely flat sandals. Chanel even has a light-up pair for summer nights!
Are there any trends that you're looking forward to this season?What are your plans for summer? I would love to hear about them!
You might also like